Damaged Kids was a streetwear brand I cofounded in 2015. It used streetwear culture as a means of challenging the wearer to face mental illness within the younger demographics. "Damaged Kids" was meant to be a platform to encourage anyone who may be dealing with anxiety, depression, fear, and other trials hushed by society to embrace these parts of being human and to persevere through the trials of life. This brand was meant to give back to the community by having a percentage of the proceeds of every garment sale go to resources to make mental health tools more accessible to teens and young adults.
My Roll
I was Operations Manager as well as one of the Graphic Designers for Damaged Kids.
I researched and ordered product from vendors, factored the pricing for each garment, sewed in our custom clothing tags, as well as learned how to 3d print our hang tags. I also designed our main letter logo, and our icon Stoked Skull. I had to balance how to merge rough street elements, within the punk music scene, and suicide and mental illness. I drew inspiration from art history of the American Tattoo style, as well as the skater culture which was prominent in our towns culture in Richmond VA.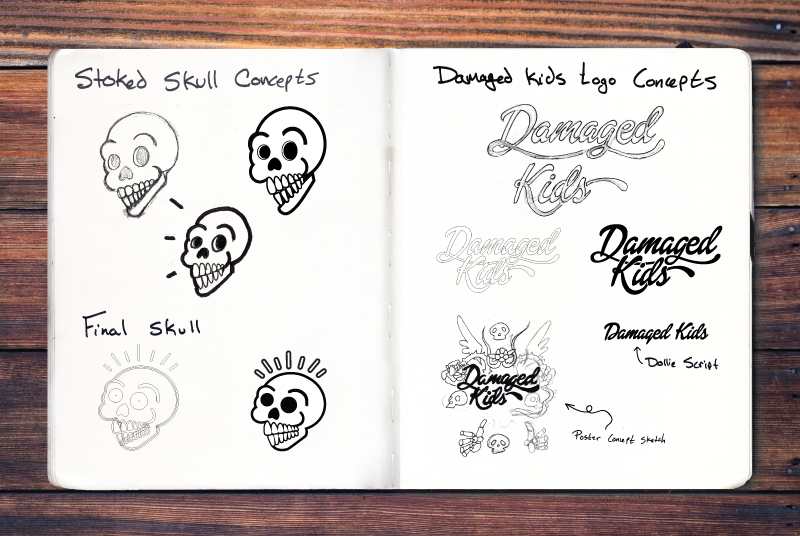 Crowed Sourcing

Damaged Kids was funded through a Go Fund Me campaign. I was charged with writing out our goals, financial tiers, and production schedule. Once we achieved our financial goal we printed 4 designs, and backer kits consisting of a limited edition print I illustrated, stickers, and a hand written thank you card. Damaged Kids gained enough of a following where we moved the company to Los Angeles California. We wanted to do this to learn how to grow a brand, seek mentors, as well as be in the heart of the US manufacturing district of Downtown Los Angeles.